What is the difference between a flasher and a dodger? They both are used to attract fish and add some action to your lure. But they have different action in the water and fish differently. A dodger looks like a giant spoon or oval blade. The typical rectangular flasher rotates in circular motion that whips your hoochie around for action. A dodger moves side to side like a lazy spoon trolled in water. So how and when can you use a dodger? Pretty much anywhere, and for any type of fish.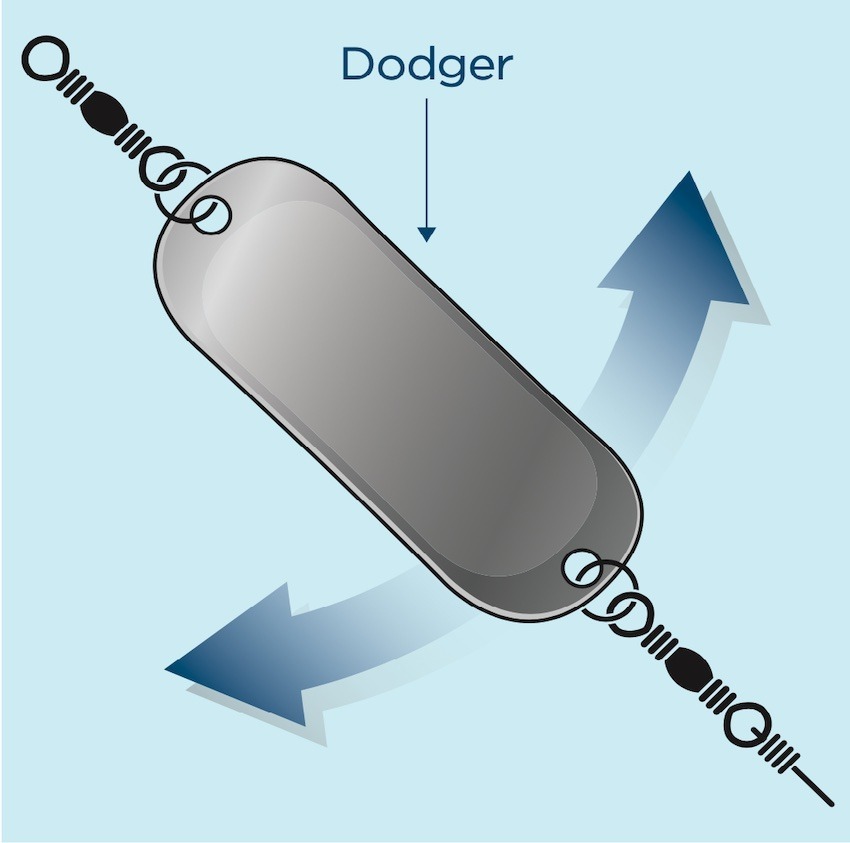 You'll typically troll a dodger slower than rectangular flashers that spin 360°. You want to troll fast enough that the dodger does not start to lose the side-to-side motion—around 1.5 mph SOG (speed over ground) in lakes or with the current in the ocean. The combination of the dodger's weight and the trolling speed makes for terrific action. You can use a dodger for freshwater fish like trout, kokanee, burbot, and salmon, or in saltwater for salmon, lingcod, rock cod, and halibut.
The setup with a dodger is a little bit different compared to your rectangular flasher, and the key is in the leader length and line test. When fishing in the lake, you would use 12- to 20-lb test line as leader. This is because the lure is lighter weight and smaller than the saltwater lures. In saltwater, you want to use 30- to 50-lb test line for the leader. To transfer that side-to-side motion to your lure, you will have to keep your leader length short—6″–24″ is the rule of thumb. If you are fishing with a hoochie for kokanee or for salmon, your leader will be between 6″ and 18″, depending how much action you want. You can also fish a spoon or bait with a dodger. You won't get much action with a leader longer than 24″.
Give a dodger a try. Its versatility just might surprise you.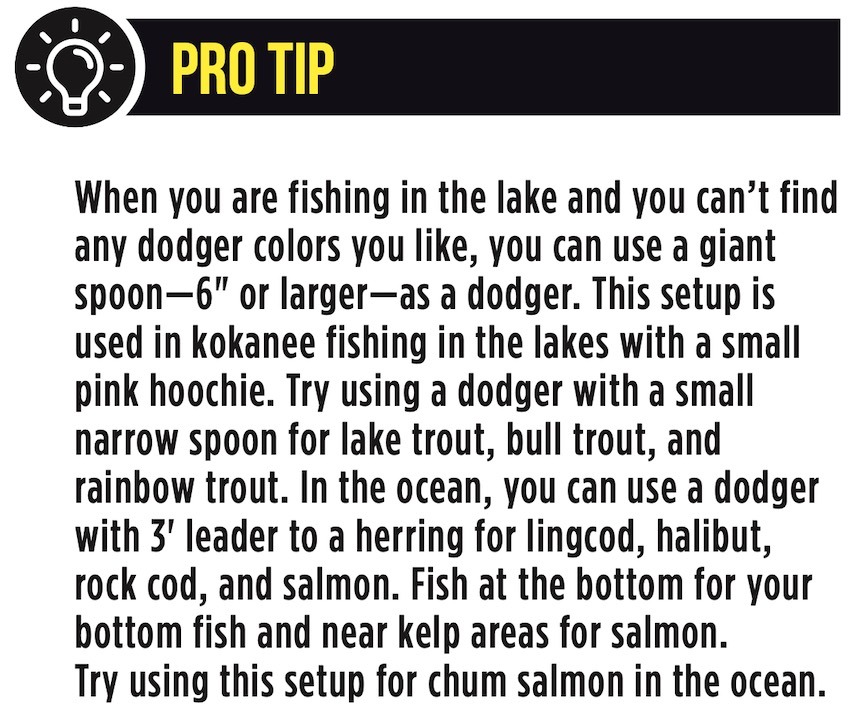 This article appeared in Island Fisherman magazine. Never miss another issue—subscribe today!