Gulf Islands South Fishing Report
March 9, 2019

Island Fisherman

458
Find out what's working and what's not when fishing in the Gulf Islands South area. Tips, best practices, places and the go-to lures are just a sample of what you'll find in our fishing report.
Gulf Islands South Tides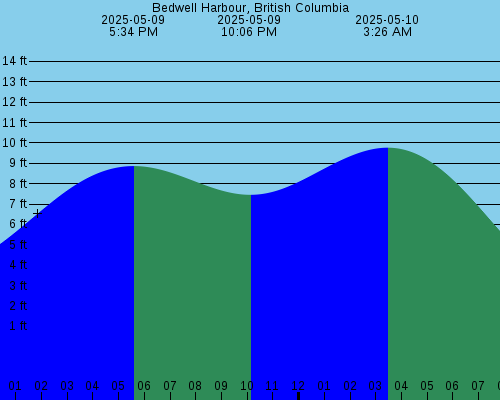 Gulf Islands South Weather
---
Gulf Islands South Fishing Report
March 2019
March and April are some best months to be fishing around the Gulf Islands. Many people are going out and putting down their prawn traps, dropping a couple of lines, and picking up some nice winter Chinooks. Some hotspots for these winter Chinooks are Wain Rock out of Saanich, Bold Bluff off Saltspring Island, Erskine Point off Saltspring Island, Tent Island, Fairfax Point off Moresby Island, and Pender Bluffs. These are all inside waters and protected from weather for the most part, but always check the weather and check the regulations to make sure the spot is open for fishing and prawning.
I like to run the Cop Car, Irish Cream, Kermit, or glow Speckle Back spoons 3.5 to 4 inches. Glow flashers with glow spoons are deadly this time of year, if you get the right coluor and the right depth. The best times to fish are an hour before and an hour after the low or high slack tides.
Now that you have tried the inside waters, check your weather and tides and have a look at doing a run out to Thrasher Rock, Porlier Pass, or Salamanca; try the same combo of lures and maybe even try a few hoochies and bait–green glow combo works well. When I fish outside Galiano Island this time of year, I, like to fish 220 to 120 ft of water. Make sure you know the closed areas before you go out. You'll find a mix of small and larger fish, so you will be releasing several fish throughout the day–handle them with care and check your lines often. Look for bait balls on your sounder and troll right through the middle of them.
---
Gulf Islands South Fishing Report Archives
Sept-Dec 2018
September and October will see some action around the Gulf Islands. Sockeye are on their way, so what do you need to do? First off, if you are the last person on the grounds, you have probably missed the bite. This is an early morning fish, so charge up your head lamps and get the alarm set. Standard fishing for these fish is an 18" to 22" leader with pink hoochies. Flasher green glow or green/chrome flasher slow your speed down a bit, and if you can have lots of gear in the water, stack your rods 20 ft apart.
Salimanca Point, Polier Pass, and the mouth of the Fraser are going to be the hot spots. Watch for the northwest winds if you are going to cross the Strait of Georgia. Check the new closed areas for the Fraser River and make sure you're not in them. There are still some nice springs around; look for bait as always and try fishing top waters at 30 to 80 ft. Skinny G Spoons and Coho Killers seem to be working, as well as the 3.5" to 4" spoons in glow green with green chrome flashers.
If you are fishing for Chinooks, look for tide changes. I like to fish an hour before and hour after tide change—morning or evening tide change seem to work. Always work one side of your gear to wherever you see feed on your sounder. I like to leave one side at one depth while working another side at different depths. If you're working your gear a lot and out for the day, don't forget to fire up your big motor once in awhile as the downriggers can burn up some juice on your batteries.
The word is that Pender Bluffs are supposed to be open October 1; check the regulations. With the late rainfalls, this could be the hot spot for some later coho fishing and maybe the tail end of the sockeye run. Cohos like lots of gear. I like to run the Watermelon teaser head with bait or Watermelon spoons—whatever you have in the tackle box with color, rusty hooks excluded. Remember that coho are not a tough fish, so try not to handle them too much. Make sure when you release the fish that you do it in a gentle manner—not throwing them off 20 feet with the gaff.
Tight lines.
---
August 2018
August will bring in a variety of fish, with perhaps a good chance to see some sockeye and the beginning of the cohos. Some bigger Chinook salmon will be on the move to the Fraser, Cowichan, and Nanaimo Rivers. Our area to fish around the gulf islands has been cut back a lot with the new DFO regulations, so you need to plan your fishing according to the tides and the new closed areas. I like to get out an hour before high or low slack and fish an hour after tide change, considering the calmer closed areas around Pender Bluffs and Active Pass. If you fish south of the Strait of Georgia, make sure you check the weather before you go out; trying to fish in the gulf on a NW 20-25 is no fun, and could be the last time the family wants to get out on the water with you.
Fishing from Lion Isle to Polier Pass can be very good in August; look for the RCA areas prior to going out, as there are a few. I like to fish mid-water at 100 to 120 ft, or wherever I see the bait on the sounder. Green Glow flasher with a Tiger Prawn hoochie or 3″-4″ Green Glow spoons work well. I also like to use the Bloody Nose teaser head with a Glow Green flasher, and a 5-ft leader works well this time of year. Once you get your downrigger lines down, try throwing out a surface bucktail line with a 6-oz slip weight–there could be a few fish up top that may surprise you.
If you are fishing inside near Morsby Island, again know the new closed areas before you fish. My favorite is the Green Glow Coho Killer spoon or Cop Car spoon; Sand Lance and Pesca spoons also work well. When fishing close to Morsby Island, run one side until you hit the bottom, then bring up 3 ft the other side and try to run mid-water. I like to run my glow spoons on the bottom rigger, as they can take a bit more when hitting the bottom, and run bait or hoochies mid-water. Don't be afraid to try some spoons/hoochies and teaser heads with lots of color in them this time of year, as the cohos should be showing from the middle to the end of August. Dogfish can be a problem when fishing bait in these waters; if you can't keep them off, try speeding up your trolling a little bit.
If Pender Bluffs was your go-to spot, try going over to Beaver Point. A lot of fish migrate right by the point; some big ones have been caught around this spot. Watch the bottom–it can be a bit grabby. If you have fished all these spots in a day and still have had no luck, then check your boat for bananas. Tight lines.
---
July 2018
There are big changes in Southern Gulf Islands fishing this year. If you're headed out, take note of recent Chinook closures.
July is the middle child of the fishing season. She's not the hot and heavy fishery we have all come to love and respect from the spring fishery. She's moody and slightly dull in this neck of the woods. But don't turn your back to her–fish are still available to those who work for it.
This is the time of year to return to structure. From Sidney to Thrasher, think about getting back to the basics. Fish will start holding on rock piles, kelp beds, and upwellings. The gear takes a small shift from hardware and spoons to more meat. Don't leave home without some anchovies and/or herring. If you insist on being a gearhead, think scent. Lengthen your leaders and play with depth.
With structure being key, Porlier, Coal Island, Fair Fax, Salamanca, Lions Islet, first through second cable all being your friend. Rub the contours and earn it.
Spoons and hootchies will work, but this time of year I adjust my gear to meat! If fishing the straight and dirty water, think glow heads and flashers. If further south, think UV and clear.
This is a time of year where bass are active, especially smallmouth. Plan your approach according to the day at hand or for light conditions. Water temperature is rising, so crankbaits and spinner baits worked fast by structure will result in steady bites.
July is still a good month for the fly fisher, as the early morning and evening hatches can result in epic fishing. Mid-day nymph patterns stripped along shoals can make or break the day.
July is truly a mixed bag. It's a transitional month in our region, one that this year comes with restrictions we've never faced until now. But the beauty of fishing is that we constantly evolve and move forward.
---
June 2018
June is basically the continuation of our May fishery, and it may offer slightly better action, with Porlier Pass, Salamanca Point to Second Cable, and the famed Thrasher Rock being the biggest producers. Fish will be throughout the water column, so it's important to play with depths. 50-to 170-foot running spoons, hootchies, anchovies, and small herring will all produce. Glow is your friend, as the surface water in the strait can be murky this time of year. So light it up and add scent, especially if they are running deep.
Other areas that will produce, but not likely in the same kind of numbers, are Pender Bluffs, Tumbo Channel, Sidney Channel, and Hambley Point. Halibut fishing the Sidney area and south towards Victoria can produce for the patient angler too–it's definitely an anchor show, and pay attention to the tides. If the dogfish get thick, use scented grubs.
Freshwater Report
June is prime time on Salt Spring for some fast-paced smallmouth bass in the shallows, or you can target trout in one of the many lakes that are annually stocked.
Bass will get up in the skinny water at this time of year, so think top-water baits early in the morning or at dusk. During the middle of the day, shallow-running crank baits, spinner baits, and jigs will produce just off the ledge or in and around docks. The same applies for the fly fisherman. Use poppers of varying sizes early and late in the day, and weighted minnow and leach patterns during the heat of the day. Smallmouth love structure, so focus your efforts in and around docks, submerged logs, and rocky points.
Trout fishers can have great success trolling small spinners, spoons, and plugs, running the ledge and doing long tacks until you find fish. Focusing on that area will put more fish in the boat. Fly fishermen have lots of options this time of year, either simply trolling attractor patterns with various weighted lines, anchoring up on likely shoals and casting weighted nymphs and leeches on floating lines, or matching whatever hatch is emerging that day and enjoying the slurp of a large trout as he eats your presentation off the surface.
The lakes are all different. If you're after numbers of fish and family-friendly fishing, think Stowel Lake and Blackburn, both small lakes that are full of smaller trout. If you're looking for a combination fishery of bass and trout, Cusheon and Saint Mary's are the ticket. As for trophy trout, have a go at Weston lake (fly only) or Saint Mary's, which holds the largest bass and trout on the island.
June is truly one of the best months to fish around these parts, so fuel up your saltwater rig for some longer runs. Or throw your tinny in your truck and grab the kids for some memorable time on the lakes.
---
May 2018
May in the southern Gulf Islands is quite possibly the best time to fish this area. We still have feeder fish (winter springs) in the mix. And the first wave of river-bound fish arrives with a bang. The prime area is the east side of Galiano, from Lions Islet to Porlier Pass. But remember to check the charts for RCA zones, as we have many. Fish can be found from 50 to 200 feet, so it's a good time of year to run multiple rods and/or work the gear to search them out, like 4" glow spoons, four to five feet behind a flasher, glow hootchies and of course bait. Anchovies and small herring can often out-produce artificials this time of year. Trolling from Lions Islet to the Second Cable is a very productive tack. Remember to turn around if you hit fish, as they will hold in certain areas with the tide/current. Then from just above the RCA to Porlier Pass, sometimes inside tack; other days it pays to troll into the abyss and play with depths. Other areas to focus on are Pender Bluffs, between the two bird-stained rocks. East side of Mandarte, Coal Island, Hambley Point, and bottom end of Saturna Island/Tumbo Channel.
May is also the opening for bottom fish in these parts. Again, pay close attention to the RCA zones. Search out pinnacles on your charts and try to jig around slack tides for best results.
We are blessed with some incredible freshwater fishing on Salt Spring Island, with most lakes receiving annual stocking. Rainbows, cutthroat and smallmouth bass are all available. May is a great month to target all of the above. Saint Mary's Lake and Cusheon Lake have smallmouth bass. These fish are up on their beds this time of year. So catch and release, as they are in spawning mode. Early morning and evening can be wicked top water times, popper flies or top water plugs can produce violent takes. During the day, crank baits and spinner baits worked through the shallows produce well. For trout, trolled leach flies, spinners and small spoons will work. For the purist fly fishermen, try Weston Lake; some trophy trout can be fooled with damsel nymph patterns, dragonfly nymphs and stickleback flies. A great lake to take the kids is Stowel. It's a small lake, with plenty of hungry fish.
May is a great time around these parts. From saltwater salmon to chunky smallmouth bass, we've got something for everyone.