Winter Harbour Fishing Report
June 11, 2019

Island Fisherman

321
Find out what's working and what's not when fishing in the Winter Harbour area on Northern Vancouver Island. Tips, best practices, places and the go-to lures are just a sample of what you'll find in our fishing report.
Winter Harbour Tides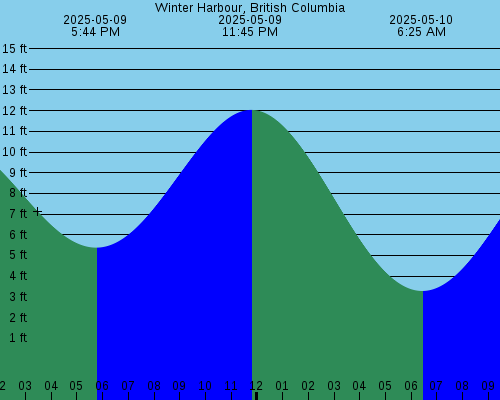 Winter Harbour Weather
---
Winter Harbour Fishing Report
June 2019
Long-time residents agree that this year's herring spawn in Winter Harbour was as big as anyone can remember, and it's got the season off to a great start. As always, the lingcod, halibut, and early Chinooks get lured into the nearshore waters in the mouth of Quatsino Sound chasing the herring, but this year's abundance has led to particularly good early-season fishing. Action inside Cains Island, around Pinnacle, and at McAllister Isles has been absolutely great.
Recently, there have been large schools of needlefish and squid in the nearshore sand flats between Kwakiutl and Lippy Point, which has also seemingly attracted and held a lot of transiting Chinooks. Anglers trolling the structure in 175 to 200 ft of water with lures in the 125- to 150-ft range have been catching beautiful springs in the 16- to 20-lb range, while also quite regularly catching halibut, lingcod, and rockfish prowling the midwater around the various bait stacks. Needlefish patterns have been particularly productive, as have large glow squid patterns.
If patterns of the last few years hold, we will see waves of Chinook and coho fill into the near- and midshore waters through June, feeding on the various bait congregations around structure. Small pattern spoons like the AP 4″ needlefish and anchovy patterns in greens and blues are very productive trolled near bottom, as are needlefish pattern hoochies.
Late May and early June present anglers with particularly good halibut, lingcod, and rockfish opportunities as all the favourite nearshore structure has largely been unfished since fall. Last season, halibut was very abundant in our area, and early season action suggests we will enjoy more of the same. The Winter Harbour/Quatsino Sound area truly is a special place. It's one of the few remaining low-traffic but prolific areas on the coast, suitable for boats big and small.
We were lucky to have escaped some of the DFO Fraser Chinook closures, and many of our favourite nearshore and 1- to 2-mile offshore structure remains open for 2 a day and 4 in possession, with all areas opening July 14 to the same 2/4 split.