Howe Sound Fishing Report
June 11, 2019

Island Fisherman

597
The latest tide, weather, and fishing reports of what's hot, and what's not for fishing the Vancouver, BC area. Tips, best practices, places and the go-to lures are just a sample of what you'll find in our fishing report.
Howe Sound Tides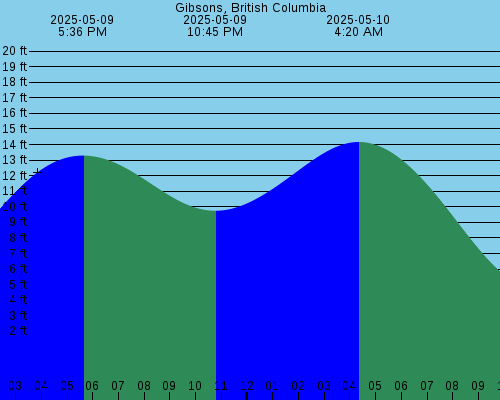 Howe Sound Weather
---
Howe Sound Fishing Report
June 2019
June can be a hit-and-miss fishery in local Vancouver waters, but after a good May there will still be great pockets of action thru the area. The bigger story this month will be another good showing of coho, which last year provided excellent action, with good sized hatchery (adipose fin-clipped) fish. The size of these coho last year was amazing—some reached 7 or 8 lbs by late June. If you found the school in theÊSouth Bowen offshore area or tight to Bowen, it was like the good old days! Later they started to move into the harbour as is the usual pattern.
Gear selection always makes coho fishing exciting, and lures like White/Ghost hoochie, small bright spoons, or Anchovy/Flasher are hot, with a no-flasher setup being the most sporting gear for these active fish. Every piece worked well for coho last year, so starting with a good spread of bright-colored flashers, along with each previously mentioned lure, is a good bet. Hoochies were dynamite at times, and Army Truck was a good pick—pull from the archives in this fishery and you will be rewarded. Speed and depth are critical; sometimes 10 ft to 30 ft at first light, then deeper as the day brightens. When the bite stops, as it does for coho, speed up and cover ground to attract them back. It is a great thing to see the coho making such a comeback in our southern local waters, and it shows the value of habitat restoration and hatchery programs that make this happen.
Tight lines!
---
Howe Sound Fishing Report Archives
May 2019
Every angler has his or her own reason to get out on the water; fish to eat may be at the top of the list for some, while others are content to watch the rods all day and not see one even wiggle. But it's playing a large fish of any species that tops the list for every angler. Fishing simply brings people together, and our local Vancouver saltwater fishing has some great opportunities this spring to come out and enjoy a day on the water.
Even if I don't land any fish, I get motivated for my next outing to improve my technique, gear, and location choice. One of my favourite topics before any trip is discussing what anchovy, spoon, or correct colored hoochie/flasher combo will be the right call, and how will it affect my fishing? After the trip, reviewing these details with other anglers is always a learning experience.
In southern BC saltwater areas, we'll go about 11 weeks without putting a Chinook salmon in the boat. We are entering a new era in the Pacific salmon saltwater fishery with measures that have impacted us all. Whether it was time for these measures to be enacted will be contested and debated for a long time, and results from these measures will also be judged at a future date.
In the meantime, you'll find hatchery coho in mid to late May, a great developing local fishery that is making a major comeback! Moving ahead into the summer months, expect a great fishery to develop for Chinook, coho, and pink salmon in many locations. No matter what you're after, an entertaining, fun, and exciting learning experience on the water is very much available with an experienced licensed/certified guide who shares a passion for angling.