As with all things fishing, there are many rod and reel options and things to consider when choosing setups for use on a kayak. Let's be honest—on the kayak there is generally not as much room (or so they say) compared to your boat, where there are lots of hiding spots. On your kayak, deck space is at a premium, and managing that deck space is important to optimizing your experience.
Let's get started. How many setups do you need? We will talk a little later about species specific gear, but plan on bringing the rod you're going to use and one good spare. If you are planning multiple techniques (i.e., trolling & jigging) and feel you need separate gear for each, just make sure you have your kayak set up to keep the unused gear out of your primary fishing zone.
For those who are more ambitious when covering ground by trolling two lines, understand the risks (versus rewards) and be sure you are fishing within the regulations. If you do decide to do this, it is even more important to carry a spare. Two lines with a narrow beam can often result in a few tangles … but I'll save that for another article.
The Right Rod For Kayak Fishing
First, let's talk rods. For me the most important item is rod length. Considering your primary fishing zone, you'll want to have something that will allow you to pass the rod tip around the front of your kayak (without having to get out of your seat), but not so long that when it's time to land the fish it's hard to get it within landing distance. The image below sets out a good rule of thumb for rod length choice, using your seat as the guide.
Depending on your kayak and personal size, generally a 7'6″ to 8'6″ rod is in most people's sweet spot (taking in to account the rod flex). I would definitely stay away from shorter rods, as they can significantly limit your options when playing a fish. Longer rods work, but take a little more practice on the landing side.
Fishing Rod Power & Action
Next is rod power and speed.
Catching fish from a kayak is an amazing experience, especially when the species are larger and you are towed! For a kayak I usually recommend rods that are one weight higher and one speed slower than what you normally use. This means that if you normally use a light action fast rod, I suggest a medium light/ medium and moderate action rod.
Rod Action Table
The rod power essentially identifies how much weight is required to bend a given rod. The information in this table is a general guide and can be considered applicable to spinning and level wind combinations. Rods also generally have a lure specification on them which identifies the ideal size for casting with the given rod.
The same goes for bigger species. If you normally fish a medium weight/medium action, look to fish a medium heavy/moderate speed rod on your kayak. The reason for this is safety, both yours and the fish's. On the kayak, we want to have a greater degree of control to steer/ move the fish (often to keep it away from others) while also having enough power to land it in a timely manner. Additionally, by increasing the weight and slowing the action we produce less rod bend, which helps us to move our rod around the end of the kayak when playing a fish and contributes to our selection of rod length. There are lots of great rods out there, and I generally say find something you like, but save your money for your reel. Manufacturers like Penn, Ugly Stik, Shimano, Berkley, etc. all make good models.
Fishing Reels Types For Kayak Fishing
The reel is by far more important than the rod. More fishing days have been lost due to failed reels than rods, so this is where I encourage people to invest your dollars wisely. Kayaks are hard on gear, particularly if you are fishing on the salt water. To keep your equipment versatile for fishing both fresh and saltwater, I recommend only buying reels with sealed bearings. Without sealed bearings, reels that get exposed to the salt are probably only good for one season.
The most universal is the spinning reel. If you want something that is easy to use, forgiving, and can work for all types of fishing (casting, trolling, jigging), this is your best choice. I could write multiple articles on "gear ratios" and the benefits and downfalls of certain reels, but we'll have to save this for another day. More important for your kayak is the size/capacity of the reel and matching it to the fish species and to the rod.
Spinning Reel Sizes
Generally, reels are considered in "size" series which increase from 1000 to 5000 (and beyond). For lakes and small fish, 1000 to 2000 series reel sizes are perfect. If you're moving up to fishing bottom fish or salmon, look for a 3000 to 4000 series reel. Similar to your approach to buying a rod, when in doubt, one size up is the way to go, particularly if fishing larger species.
About the Spinning Reel Size Chart Above:
In this chart, we cover the general range of equipment that has application to fishing in western Canada for both fresh and saltwater species. For reels to be used in saltwater applications, we recommend only reels with sealed bearings. Reels should always be balanced with rods to optimize casting and general performance. This chart has been colour-coded to general categories: BLUE for fish 0-10 lbs, ORANGE for fish 5-20 lbs, and GREEN for everything above. This table only goes up to 7000 (70) series reels; reels go up to 30,000 (30) series.
Other considerations:
For deep jigging offshore, line capacity for the reel should be minimum 150% of the depth being fished.
Lighter tackle makes playing the fish more challenging, however lighter tackle puts additional strain on fish to be released. Balance your setup.
If using braided line, consider running monofilament or fluorocarbon leaders.
Leaders should generally be 10% less line strength than your mainline.
Gear ratios and drag can be different on similar-size reels. Determine your needs and choose accordingly. If in doubt, ask.
Other Fishing Reels
After spinning reels, the next best multipurpose, multispecies choice is any form of level wind reel. Traditionally these are considered jigging or sometimes casting reels, but they work equally well for trolling. The simple setup and the large capacity of these reels make them very practical for kayak fishing.
Beyond the spinning and level wind reels, there are endless options. For salmon, traditional single action (Islander, Daiwa, Amundson, etc.) reels make for a great experience when playing a fish. For those freshwater bass enthusiasts, the traditional baitcaster is an art of fishing all to itself (don't make this your first purchase, or you may quit fishing very quickly). Fish with what is comfortable for you, and remember you have less deck space to deal with things like tangles or changing things out. Lastly, make sure your reel size is matched to your rod (or close) to reduce arm fatigue and reduce the risk of it falling off the kayak.
Keep your gear in good shape. Rinse your gear after each use to remove salt and any grit that can easily accumulate.
Staying Safe While Kayak Fishing
My last points are safety related. If you have the option of rods that have hook loops on them, this is always a bonus. As our space is confined on a kayak, securing lures to the rods when not in use is important to reduce the possibility of tangles and inadvertently catching yourself.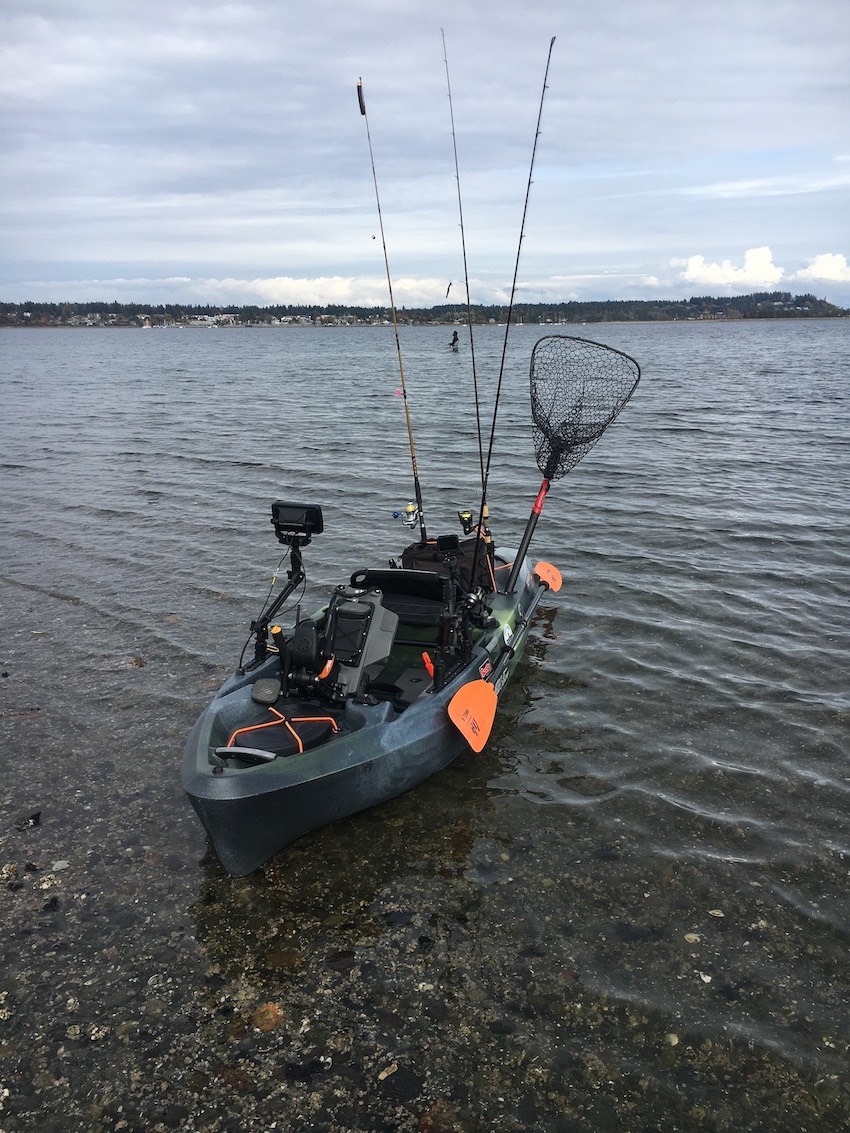 Storing your spare rods vertically is very efficient and generally provides for easy access—that is, until you get into a crowded marina or brushy area, particularly rivers. Catching your rods on something overhead, particularly in moving water, can result in a swift exit from your kayak and probably some lost gear—just ask my son! If you will be fishing in these environments, be sure you have alternative storage methods to protect you and your investment.
This article appeared in Island Fisherman magazine. Never miss another issue—subscribe today!